November 06, 2017
PCI and CABG Provide Similar Intermediate-Term Outcomes in Left Main CAD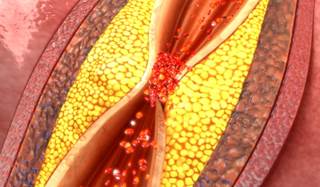 Greater early benefits in quality of life were seen in patients treated with second generation everolimus-eluting stents as compared with CABG surgery.
Percutaneous coronary intervention (PCI) using a second-generation everolimus-eluting stent provides greater early quality-of-life benefits compared with coronary artery bypass grafting (CABG) surgery in patients with left main coronary artery disease (LMCAD), according to a substudy of the Evaluation of XIENCE versus Coronary Artery Bypass Surgery for Effectiveness of Left Main Revascularization (EXCEL) trial presented at the Transcatheter Cardiovascular Therapeutics (TCT) 2017 meeting, held October 29-November, 2 in Denver, Colorado.1
The results were simultaneously published in an issue of the Journal of the American College of Cardiology.2
The investigators of this prospective substudy of patients included in the EXCEL trial sought to determine quality-of-life differences among patients with LMCAD randomly assigned to undergo either PCI or CABG.
Investigators included 1788 patients with LMCAD from the EXCEL trial. The Seattle Angina Questionnaire, the Rose Dyspnea Scale, the Patient Health Questionnaire-8, Short Form (SF)-12, and the EuroQol-5D were used to gauge quality of life at baseline as well as at 1, 12, and 36 months.
At 1 month, PCI was associated with greater quality-of-life scores than CABG when compared with baseline. Specifically, patients undergoing PCI had better scores on the SF-12 mental component summary scale (adjusted mean difference 2.0 points; 95% CI, 1.1-2.9; P <.01) and SF-12 physical component summary scale (mean adjusted mean difference 8.2 points; 95% CI, 7.3-9.1; P <.01) compared with those who had CABG.
At 12 and 36 months, the quality-of-life benefits associated with each revascularization strategy did not differ significantly between the 2 groups.
Although this substudy demonstrated that PCI provided better short-term quality-of-life benefits for those patients with LMCAD, it did not demonstrate benefits in patients with LMCAD deemed inoperable or unsuitable for PCI.
Because approximately 20% of patients in both arms did not have available quality-of-life data at 3 years, the investigators suggested further research is "needed to evaluate the durability of health status benefits with PCI compared with CABG beyond 3 years in selected patients with LMCAD."
References
Baron SJ, Chinnakondepalli K, Magnuson EA, et al. Quality of life after everolimus-eluting stents of bypass surgery for treatment of left main disease. Presented at: TCT 2017 Meeting; October 29-November 2, 2017; Denver, CO.
Baron SJ, Chinnakondepalli K, Magnuson EA, et al. Quality of life after everolimus-eluting stents of bypass surgery for treatment of left main disease [published online October 30, 2017]. J Am Coll Cardiol. doi:10.1016/j.jacc.2017.10.036