February 02, 2018
Clinical Case: Appropriate Cardiovascular Workup After Acute Hemiparesis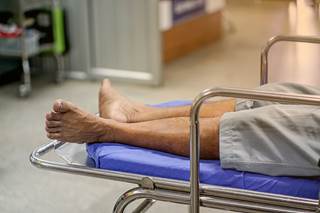 The American Heart Association recently released updated guidelines for the treatment of acute ischemic stroke.
Answer: D. 24-hour telemetry monitoring followed by 10-day Holter monitoring to evaluate for episodes of atrial fibrillation
One quarter of patients with stroke who are monitored for an extended period of time are found to have atrial fibrillation. In the Find-AF trial, 14% of patients were found to have atrial fibrillation with 10-day Holter monitoring at baseline, at 3 months, and at 6 months vs only 5% of those randomly assigned to standard of care.1
Unfortunately, only a few small studies have looked at prolonged monitoring, and most of these failed to show a significant difference in clinical outcomes. For this reason, prolonged cardiac monitoring carried only a class IIb recommendation in the latest stroke guidelines from the American Heart Association.2
These updated stroke guidelines found that routine echocardiography for secondary prevention in all patients with acute stroke was not cost-effective and often led to as many false-positive results as false-negative results. Thus, transesophageal echocardiography and transthoracic echocardiography are no longer routinely recommended.2
Driving this recommendation is a lack of positive outcomes data for patent foramen ovale closure over antithrombotic therapy alone. Echocardiography continues to carry a class IIb recommendation for select patients at highest risk for intracardiac thrombus.
The very mild elevation in serum troponin and the electrocardiogram changes are not uncommon in patients presenting with acute stroke. In fact, central nervous system disturbances often cause deep T-wave inversions that can be mistaken for ischemia. The troponin elevation was very mild and may also be present in patients presenting with large strokes. Few data exist to show that stress testing in this setting improves outcomes. Cardiac catheterization is not indicated.
Reference
Wachter R, Gröschel K, Gelbrich G, et al. Holter-electrocardiogram-monitoring in patients with acute ischaemic stroke (Find-AFRANDOMISED): an open-label randomised controlled trial. Lancet Neurol. 2017;16(4):282-290.
Powers WJ, Rabinstein AA, Ackerson T, et al. 2018 Guidelines for the early management of patients with acute ischemic stroke: a guideline for healthcare professionals from the American Heart Association/American Stroke Association [published online January 24, 2018] Stroke. doi:10.1161/STR.0000000000000158