February 14, 2017
Risk Scores Underestimate Risk of Cardiovascular Disease in Gout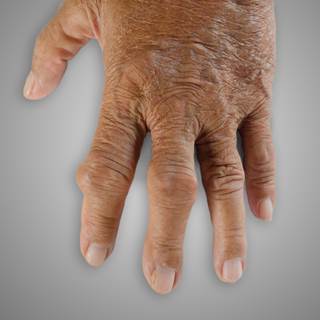 Patients with gout have a high risk for cardiovascular events and atherosclerosis.
Most patients with gout may be at high risk for cardiovascular (CV) disease, according to a study published in the Annals of the Rheumatic Diseases.1
Gout is known to increase the risk for CV disease, possibly mediated by ongoing inflammation.1 The most recent European League Against Rheumatism (EULAR) recommendations in gout management advocate for early treatment with the goal of preventing future gout attacks and reducing crystal load, which may decrease the risk for CV events.2
However, severe coronary atherosclerosis has been found in asymptomatic patients with hyperuricemia and silent monosodium urate (MSU) deposits, raising the question of whether the risk of CV disease in gout patients is higher than previously believed.1
Mariano Andrés, MD, from Hospital General Universitario de Alicante in Spain, and colleagues evaluated the CV risk in patients with a new diagnosis of gout using risk prediction tools and carotid ultrasound.1
High-Yield Data Summary
Commonly used cardiovascular risk scores may underestimate the risk of cardiovascular disease in new gout patients
Of 237 patients, 95 (40.1%) were at high risk and 72 (30.4%) were at moderate risk for CV disease, according to Framingham Heart Study (FHS) and Systematic COronary Evaluation (SCORE) CV risk stratification scores.1
All 142 patients who did not have scores indicating high CV risk underwent carotid ultrasound. Just over half of these patients had findings of carotid atheroma plaques and increased intima-media thickness that raised their CV risk level to high.1
Whereas risk prediction scores for CV disease classified 40.1% of new gout patients as high risk, findings on carotid ultrasound increased the percentage of high-risk patients to 67.9%.1
"Whether incorporating carotid ultrasound as part of CV risk assessment for gout patients improves survival or reduces CV events needs to be assessed in a prospective study," Dr Andrés said in an interview with Rheumatology Advisor.
Gout is a risk factor for CV disease, although the degree of risk has not been established and may be higher than previously thought. Researchers found that approximately 40% of patients with a new diagnosis of gout were at high risk for CV disease. However, findings on carotid ultrasound in patients who were lower risk by risk stratification scores increased the proportion of high-risk patients to nearly 70%.
Summary and Clinical Applicability
"Commonly used CV risk scores may underestimate the risk of CV disease in new gout patients," Dr Andrés said. "Patients evaluated in the clinics may have carotid plaques and therefore very high risk for CV disease, so it is crucial to focus on managing CV comorbidities, such as high blood pressure, in addition to proper gout management."
Study Limitations
Patients were recruited from a hospital-based rheumatology unit and thus were more likely to have severe or refractory gout and CV risk than the general population

The study did not include a control group to compare the prevalence of high CV risk as measured by risk stratification scores and carotid ultrasound
Disclosures
Dr Andrés reports receiving speaking fees from Menarini labs.
References
Andrés M, Bernal JA, Sivera F, et al. Cardiovascular risk of patients with gout seen at rheumatology clinics following a structured assessment [published online January 16, 2017]. Ann Rheum Dis

. doi:10.1136/annrheumdis-2016-210357

Richette P, Doherty M, Pascual E, et al. 2016 updated EULAR evidence-based recommendations for the management of gout. Ann Rheum Dis

. 2017;76(1):29-42. doi:10.1136/annrheumdis-2016-209707

follow @RheumAdvisor