April 04, 2018
The Mounting Evidence Against Electronic Cigarette Use
This article originally appeared
here.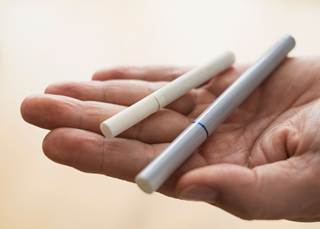 Clinicians weigh in on new evidence that indicates electronic cigarettes cause as much harm as traditional cigarettes.
As the use of combustible cigarettes has begun to decline in recent years, electronic cigarette (e-cigarette) usage has increased. According to 2016 statistics from the US Centers for Disease Control and Prevention (CDC), 3.2% of adults in the United States were current users of e-cigarettes, and 4.3% and 11.3% of middle and high school students, respectively, reported having used e-cigarettes in the prior 30 days.1
There is an ongoing debate regarding the comparative safety of combustible and electronic cigarettes. The authors of a recent commentary published in the Lancet suggest that e-cigarettes are the relatively safer option, stating that "many experts and professional bodies now accept [that e-cigarettes] are likely to be far less harmful than smoking tobacco."2
However, just after they drew that conclusion, new conflicting data became available. "At the 2018 annual meeting of the Society for Research on Nicotine and Tobacco [held February 21-24 in Baltimore, Maryland], the CDC presented new data showing that the premise of this article is wrong," Michelle Nuttall Eakin, MA, PhD, assistant professor of medicine in the Pulmonary and Critical care Department at Johns Hopkins School of Medicine in Baltimore, Maryland told Pulmonology Advisor.
In one study presented at the meeting, researchers analyzed data from the National Health Interview Surveys of 2014 and 2016, representing a combined 69,725 participants, to investigate links between e-cigarette use and myocardial infarction (MI).3 They controlled for risk factors including combustible cigarette use and relevant demographic and health characteristics. The results showed that daily use of e-cigarettes was associated with an increased risk for MI (odds ratio [OR], 1.79; 95% CI, 1.20-2.66; P =.004). The daily use of combustible cigarettes was also associated with increased risk for MI (OR, 2.72; 95% CI, 2.29-3.24; P <.001).
"In addition, there was a new study published in Pediatrics last week that demonstrated that people who use [e-cigarettes] do have higher levels of exposure to carcinogens," Dr Eakin noted.4 Researchers found higher levels of metabolites of 5 volatile organic compounds (VOC), at least four of which are known carcinogens, in participants who used both combustible and e-cigarettes. Individuals who used only e-cigarettes had levels of the 5 metabolites 20% to 341% higher than individuals who did not use either type of cigarette. The levels of 3 VOCs were similar in both e-cigarette users who used nicotine products and individuals who used non-nicotine products.4