July 03, 2017
E-Cigarette Use Increases Odds of Traditional Smoking in Teenagers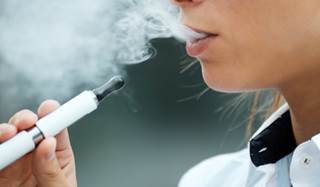 Researchers pointed out strong regulations for e-cigarettes could possible limit use among young adults.
HealthDay News — Teens and young adults who use electronic cigarettes are almost 4 times as likely as their non-vaping counterparts to begin smoking traditional cigarettes, according to a review published online in JAMA Pediatrics.
The new review looked at the results of 9 studies. The studies included 17,389 teens and young adults aged 14 to 30 when the studies began. More than half of the study volunteers were female (56%).
When the studies were combined, the researchers found that an estimated 30.4% of teens who had ever used an e-cigarette went on to use traditional cigarettes. Only 7.9% of those who never used e-cigarettes went on to smoke tobacco cigarettes. When the researchers looked at the past 30 days, 21.5% of those who had smoked e-cigarettes went on to smoke regular cigarettes, while 4.6% of those who had not smoked e-cigarettes tried regular cigarettes.
"E-cigarette use was associated with greater risk for subsequent cigarette smoking initiation and past 30-day cigarette smoking," the authors wrote. "Strong e-cigarette regulation could potentially curb use among youth and possibly limit the future population-level burden of cigarette smoking."
Reference
Soneji S, Barrington-Trimis JL, Wills TA, et al. Association between initial use of e-cigarettes and subsequent cigarette smoking among adolescents and young and adults. A systematic review and meta-analysis [published online June 26, 2017]. JAMA Pediatr. doi:10.1001/jamapediatrics.2017.1488