January 23, 2017
High Resting Heart Rate May Predict Cardiovascular Events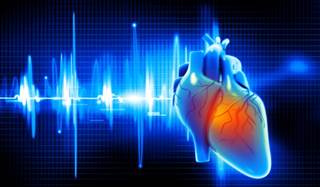 Higher resting heart rate appears to be significantly associated with all-cause mortality and CV events, especially in older patients.
HealthDay News – The effect of resting heart rate (RHR) on all-cause mortality and cardiovascular events varies with age, according to a study published online in the Journal of the American Geriatrics Society.
Kuibao Li, MD, from Capital Medical University in Beijing, and colleagues conducted a prospective cohort study involving 6209 individuals aged 40 years and older without cardiovascular disease at baseline. Participants were interviewed in 1991 using a standard questionnaire to obtain information on demographics, medical history, and lifestyle risk factors. RHR was categorized according to quartiles.
The researchers found that 840 participants died and 676 experienced a cardiovascular event during a mean follow-up of 8.3 years. In older participants (≥60 years), there was a significant association for higher RHR with all-cause mortality (P trend <.001) and cardiovascular events (P trend =.002), which was not seen in younger participants (<60 years; both P trend >.05).
Age had a significant modifying effect on the correlation between RHR and all-cause mortality and cardiovascular events (P interaction <.001 and P interaction =.002, respectively). After exclusion of individuals who died or had a cardiovascular event during the first 2 years of follow-up the results were similar.
"High RHR appears to be an independent determinant of all-cause mortality and cardiovascular events in older but not younger individuals," the authors wrote.
Reference
Li K, Yao C, Yang X, Dong L. Effect of resting heart rate on all-cause mortality and cardiovascular events according to age [Published online December 30, 2016]. J Am Geriatr Soc. doi:10.1111/jgs.14714