April 19, 2018
AHA Examines CVD and Breast Cancer Relationship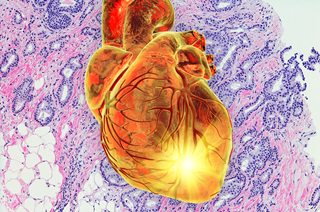 CVD is the leading cause of mortality in older women with breast cancer, and breast cancer itself is the second leading cause.
The American Heart Association (AHA) recently published a first-ever scientific statement regarding the intersection of cardiovascular disease (CVD) and breast cancer, specifically focusing on shared risk factors, prevalence, the cardiotoxic effects of cancer therapy, and CVD prevention and treatment in patients with breast cancer.1
Although CVD remains the top cause of mortality in US women, the public's level of awareness is less than ideal, particularly in minority communities. Both conditions pose a significant threat to women's health: CVD affects approximately 48 million women while breast cancer affects approximately 3.3 million women.2
According to 2014 data, the US Centers for Disease Control and Prevention reported that 1 in 3.3 deaths was attributed to CVD, 1 in 8.3 deaths was attributed to coronary heart disease, and 1 in 31.5 deaths was attributed to breast cancer.2,3 Costs for both diseases also continue to rise: $16.5 billion has been spent for breast cancer and $272.5 billion for CVD.4,5
Overlap of Risk Factors
Several risk factors for CVD and breast cancer overlap, including age, diet, family history, alcohol intake, tobacco use, hormone replacement, obesity/overweight, and physical activity.
Whereas certain dietary patterns (eg, Dietary Approaches to Stop Hypertension or the DASH diet) have been associated with lower mortality in CVD, epidemiologic data for breast cancer are less consistent. For instance, studies of the link between breast cancer and the Western diet have resulted in positive, negative, or no association.
The relationship between alcohol and cardiovascular outcomes is similarly complex. Some studies have found a cardioprotective association of average alcohol intake on ischemic heart disease and have suggested that average alcohol intake may also lower the risk for coronary heart disease. However, in an analysis of 8 prospective studies, higher levels of alcohol intake per day did not result in additional benefit for CVD.6 Modest drinking does not confer any cancer-related benefits and has been established as a modifiable risk factor specifically for breast cancer.
Cigarette smoking has been considered an established risk factor for CVD and stroke, but the association between smoking and breast cancer is inconclusive. More recently, carcinogen-metabolizing genotype variants have been postulated to modify the association between smoking and breast cancer risk.
A lack of physical activity poses an elevated risk for both CVD and breast cancer. According to one study of >1 million women, moderate physical activity (but not strenuous activity) was associated with a lower risk for coronary heart disease or a cardiovascular event.7 Likewise, moderate to vigorous physical activity has been associated with a decreased risk for breast cancer in both premenopausal and postmenopausal women who are more active vs those women who are less active.8
In terms of age, breast cancer incidence increases with advancing age, doubling approximately every 10 years, but slows at the time of menopause. CVD risk, on the other hand, increases steadily and instead of decreasing at menopause, increases.1