February 28, 2017
Noncardiac Surgery Risk Stratification: Best Practices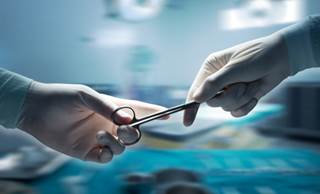 Current ACC/AHA guidelines do not recommend routine preoperative coronary angiography based on the limited data available.
Perioperative myocardial infarction (MI) occurs in up to 5% of all surgeries, and results in approximately 1 million adverse cardiac events per year worldwide.1,2 Perioperative MI and even elevated troponin alone are associated with increased 30-day mortality. 1,2 Preventing MI is an important focus of perioperative medical care given the serious prognostic implications.2
However, the pathogenesis of perioperative MI is poorly understood, making it challenging to determine the best method for risk stratification and treating patients who may be at risk. Most MIs occur in the context of myocardial hypoperfusion due to obstructive coronary artery lesions and increased metabolic demand. However, more than one-quarter of MIs occur in the absence of obstructive coronary artery lesions.2
Guideline Recommendations for Preoperative Angiography
In order to reduce the risk of perioperative MI, preoperative cardiac risk assessment is typically performed in patients undergoing noncardiac surgery.2 Several risk assessment tools are available to identify patients who may be at risk for a major adverse cardiac event, MI, or death. According to American College of Cardiology (ACC)/American Heart Association (AHA) guidelines, physiologic studies such as echocardiography and stress testing should be considered in patients with elevated cardiac risk and only if the results may potentially change management.3
However, the ACC/AHA guidelines do not make specific recommendations regarding the use of preoperative coronary angiography, only stating that "routine preoperative coronary angiography is not recommended" given the limited data on preoperative angiography in patients undergoing noncardiac surgery. The guidelines suggest that preoperative coronary angiography should be performed for indications similar to those in the nonoperative patient population.3
In light of the limited data for preoperative angiography, differing opinions exist regarding the indications for performing this procedure — and subsequent revascularization — in patients undergoing noncardiac surgery.4 Cardiology Advisor spoke with Giuseppe Ambrosio, MD, PhD, from University of Perugia School of Medicine in Italy, and Edward O. McFalls, MD, PhD, from the Veterans Affairs Medical Center in Minneapolis, Minnesota, regarding their viewpoints on performing cardiac angiography before noncardiac surgery.
Evidence Supporting Angiography Before Noncardiac Surgery
According to Dr Ambrosio, preoperative coronary angiography should be considered in patients who are suspected of having or confirmed to have underlying coronary artery disease (CAD) or in patients with high cardiac risk for surgery. "In such cases, it should be carefully evaluated whether the information available is already sufficient to establish a 'fast track' to angiography, or whether it might be advisable to first perform a noninvasive diagnostic test, such as myocardial stress perfusion," he said.