January 27, 2017
Systemic Inflammatory Response Syndrome After Congenital Heart Surgery in Children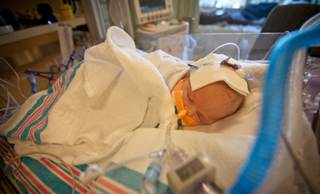 To reduce the incidence of SIRS in pediatric patients after heart surgery, researchers suggest restricting blood product use.
Systemic inflammatory response syndrome (SIRS) after pediatric congenital heart surgery prolongs pediatric intensive care unit stays, according to a new study published in the Journal of Cardiac Surgery. Certain intraoperative conditions, such as duration of cardiopulmonary bypass and use of blood products, may increase the risk for SIRS.1
A common complication of open heart surgery in children, SIRS is an inflammatory process that results in capillary leakage, which causes intravascular volume depletion and circulatory compromise and may lead to organ dysfunction or failure.2,3 Until recently, however, the characteristics of SIRS, such as risk factors and outcomes, after pediatric congenital heart surgery have not been well-established.1
The researchers evaluated the incidence, risk factors, and outcomes of SIRS after congenital heart surgery in 116 children from the treatment-free control group of a randomized controlled trial (ClinicalTrials.gov identifier: NCT00209768) on in-line filtration.1,4-5
A total of 40 (34.5%) patients had SIRS within 72 hours after heart surgery, 39 of whom required cardiopulmonary bypass.1
Intraoperative conditions were found to be significant predictors for developing SIRS. The risk for SIRS increased with time on cardiopulmonary bypass (hazard ratio [HR], 2.28 per hour; 95% CI, 1.17-4.42; P =.015) and amount of fresh frozen plasma administered (HR, 1.23 per 10 mL/kg; 95% CI, 1.06-1.42; P =.006).1
Children with SIRS had longer pediatric intensive care unit lengths of stay than children without SIRS (168 hours vs 96 hours; HR, 0.56; 95% CI, 0.37-0.86; P =.007).1
Higher doses of inotropic agents were needed for children with SIRS, leading to higher risk for subsequent organ dysfunction. However, no differences in rates of organ failure were found between the SIRS and non-SIRS groups, possibly because the number of children with organ failure was small.1
"Our data suggest that optimizing the management of intra- and postoperative blood product use towards a restrictive approach might possibly lower the incidence of SIRS," the researchers wrote.1
"Such [a] restrictive regime also seems advisable based on a recent meta-analysis where no benefit of prophylactic application of fresh frozen plasma during heart surgery could be demonstrated. Accordingly, the current clinical practice guidelines of the Society of Thoracic Surgeons and the Society of Cardiovascular Anesthesiologists do not recommend the prophylactic use of plasma in the absence of coagulopathy (Class III, Level A)," they concluded.1
Disclosures: The randomized trial was partially funded by a grant from the Pall Corporation and the B. Braun Corporation. Dr Sasse, Dr Jack, and Dr Boehne have received travel and lecture fees from the Pall Corporation and the B. Braun Corporation.
References