December 21, 2016
Growth Differentiation Factor 15 May Inform Metformin Dosing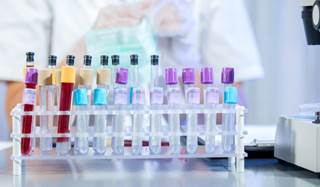 GDF15 concentration effects metformin dose.
HealthDay News – The growth differentiation factor 15 (GDF15) is a novel biomarker for the use and dosing of metformin, according to a study published online in Diabetes Care.
Hertzel C. Gerstein, MD, from McMaster University in Hamilton, Canada, and colleagues assessed 237 serum biomarkers from participants in the Outcome Reduction with Initial Glargine Intervention trial to identify markers associated with metformin dosing or use. Of the 8401 study participants, 2317 were taking metformin.
The researchers found that GDF15 was strongly linked to metformin. For every one standard deviation increase in GDF15 level, the odds of metformin use varied from 3.73 to 3.94, depending on other variables included in the analysis. The odds ranged from 0.71 to 1.24 for the remaining 25 linked biomarkers. A 1.64 ng/mL higher GDF15 level predicted a 188 mg higher metformin dose (P <.0001).
"GDF15 levels are a biomarker for the use of metformin in people with dysglycemia, and its concentration reflects the dose of metformin," the authors wrote.
Disclosures: Several authors disclosed financial ties to pharmaceutical companies, including Sanofi, which funded the study.
Reference
Gerstein HC, Pare G, Hess S, et al; for the ORIGIN Investigators. Growth differentiation factor 15 as a novel biomarker for metformin [Published online December 14, 2016]. Diabetes Care. doi:10.2337/dc16-1682.