June 08, 2018
Radial-Artery Grafts Better Than Saphenous-Vein Grafts in CABG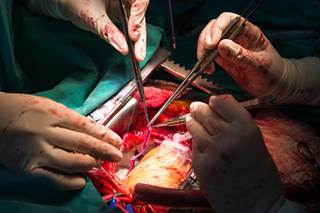 Radial-artery grafts were associated with a lower incidence of MI and repeat revascularization compared with saphenous-vein grafts in CABG.
HealthDay News — Compared to saphenous-vein grafts, radial-artery grafts are associated with a lower rate of adverse cardiac events at five-year follow-up in coronary-artery bypass grafting (CABG) patients, according to research published in the May 31 issue of the New England Journal of Medicine.
Mario Gaudino, M.D., from Weill Cornell Medicine in New York City, and colleagues performed a patient-level combined analysis of six randomized, controlled trials to compare radial-artery grafts (534 patients) and saphenous-vein grafts (502 patients) for CABG.
The researchers found that over a mean 60 months of follow-up, the incidence of adverse cardiac events was significantly lower with radial-artery grafts versus with saphenous-vein grafts (hazard ratio [HR], 0.67; 95 percent confidence interval [CI], 0.49 to 0.90; P = 0.01).
The use of radial-artery grafts was also associated with a significantly lower risk of occlusion (HR, 0.44; 95 percent CI, 0.28 to 0.70; P < 0.001) at follow-up angiography. There was a nominally lower incidence of myocardial infarction (HR, 0.72; 95 percent CI, 0.53 to 0.99; P = 0.04) and a lower incidence of repeat revascularization (HR, 0.50; 95 percent CI, 0.40 to 0.63; P < 0.001) but not a lower incidence of all-cause death (HR, 0.90; 95 percent CI, 0.59 to 1.41; P = 0.68) with the use of radial-artery grafts versus saphenous-vein grafts.
"As compared with the use of saphenous-vein grafts, the use of radial-artery grafts for CABG resulted in a lower rate of adverse cardiac events and a higher rate of patency at five years of follow-up," the authors write.
Several authors disclosed financial ties to the pharmaceutical and medical device industries.
Abstract/Full Text (subscription or payment may be required)
Editorial (subscription or payment may be required)