March 31, 2017
Increased CVD Risk With ECG Abnormalities in Type 1 Diabetes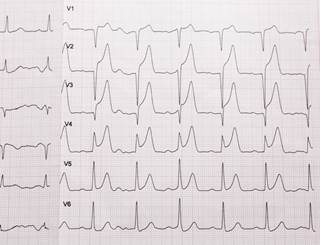 Minor ECG abnormalities did not significantly correlate with increased CVD risk.
Electrocardiography (ECG) abnormalities may predict cardiovascular (CVD) risk in patients with type 1 diabetes, according to a study published in Diabetes Care.1
Patients with type 1 diabetes are at increased risk for CVD, the leading cause of death in this population.2,3- In the Diabetes Control and Complications Trial (DCCT)/Epidemiology of Diabetes Interventions and Complications (EDIC) study, the majority of patients with type 1 diabetes developed new ECG abnormalities, and 1 in 6 participants acquired at least 1 new major ECG abnormality over a period of 16 years.4
Limited data suggest that ECG abnormalities may be associated with a greater risk for CVD in patients with type 1 diabetes.1
In the EDIC observational study, Elsayed Z. Soliman, MD, from Wake Forest School of Medicine in Winston-Salem, North Carolina, and colleagues evaluated the relationship between ECG abnormalities and CVD events in patients with type 1 diabetes.1
Based on the Minnesota Code ECG classification, ECG abnormalities were categorized as major (eg, complete left or right bundle branch block), minor (eg, isolated minor T wave or ST-segment abnormalities), or no abnormality. CVD events included stroke, congestive heart failure, first myocardial infarction, confirmed angina, coronary artery revascularization, or CVD-related death.1
Of 1306 patients, 155 (11.9%) experienced 1 or more CVD events during a median follow-up time of 19 years. Major ECG abnormalities predicted a more than 2-fold greater risk of CVD events compared with no abnormality (hazard ratio [HR] 2.10; 95% CI, 1.26-3.48) and no major abnormality (HR: 2.19; 95% CI, 1.46-3.29). Gender and HbA1c did not influence this risk.1
CVD risk associated with major ECG abnormalities was cumulative and increased with the development of each additional major ECG abnormality. Furthermore, the longer a major ECG abnormality was present, the higher the risk of CVD, with a 30% increased risk of CVD per year (HR: 1.30; 95% CI, 1.14-1.48).1
Minor ECG abnormalities did not significantly correlate with increased CVD risk.1
"A simple test like ECG could be a useful tool for screening patients with type 1 diabetes to identify those who are at risk for developing CVD in the future," Dr Soliman said in an interview with Cardiology Advisor.
"However, further research is needed for 2 reasons: first, to confirm these results; and second, to examine the cost-effectiveness of such an approach," he added.
Reference
1. Soliman EZ, Backlund JC, Bebu I, Orchard TJ, Zinman B, Lachin JM; DCCT/EDIC Research Group. Electrocardiographic abnormalities and cardiovascular disease risk in type 1 diabetes: the Epidemiology of Diabetes Interventions and Complications (EDIC) study [Published online March 6, 2017]. Diabetes Care. doi:10.2337/dc16-2050
2. de Ferranti SD, de Boer IH, Fonseca V, et al. Type 1 diabetes mellitus and cardiovascular disease: a scientific statement from the American Heart Association and American Diabetes Association. Diabetes Care. 2014;37(10):2843-2863. doi:10.2337/dc14-1720
3. Secrest AM, Becker DJ, Kelsey SF, Laporte RE, Orchard TJ. Cause-specific mortality trends in a large population-based cohort with long-standing childhood-onset type 1 diabetes. Diabetes. 2010;59(12):3216-3222. doi:10.2337/db10-0862
4. Soliman EZ, Backlund JY, Bebu I, et al; DCCT/EDIC Research Group. Progression of electrocardiographic abnormalities in type 1 diabetes during 16 years of follow-up: the Epidemiology of Diabetes Interventions and Complications (EDIC) study. J Am Heart Assoc. 2016;5(3):e002882. doi:10.1161/JAHA.115.002882