March 10, 2017
Adherence to Therapy for Resistant Hypertension Lacking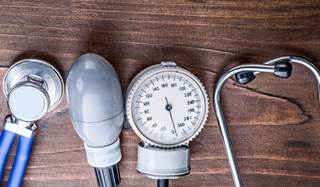 Nonadherence to hypertension therapy leads to increased costs and patient risks.
HealthDay News — Only 20% of patients with resistant hypertension take all the medicine they're prescribed, according to research published online in Hypertension.
Peter Blankestijn, MD, PhD, a professor of nephrology and hypertension at the University Medical Center Utrecht in the Netherlands, and colleagues looked at 95 patients with resistant hypertension who were randomly assigned to undergo catheter-based renal denervation and 44 who only continued medications.
The team found a mean difference in changes in daytime systolic ambulatory blood pressure after 6 months of 2.0 mm Hg (95% CI, −6.1 to 10.2 mm Hg), in favor of control. Fewer medications were detected than prescribed in 80% of patients, with change in adherence during follow-up in 31%. In those with stable adherence during follow-up, mean difference for daytime systolic ambulatory blood pressure was −3.3 mm Hg (95% CI, −13.7 to 7.2 mm Hg), in favor of renal denervation.
"Renal denervationas therapy for resistant hypertension was not superior to usual care," the authors conclude. "Objective assessment of medication use shows that medication adherence is extremely poor, when patients are unaware of monitoring. Changes over time in adherence are common and affect treatment estimates considerably."
Reference
de Jager RL, de Beus E, Beeftink MMA. Impact of medication adherence on the effect of renal denervation [published online March 6, 2017]. Hypertension. doi: 10.1161/hypertensionaha.116.08818