February 08, 2018
Hypertension Prevalence After Severe Preeclampsia Examined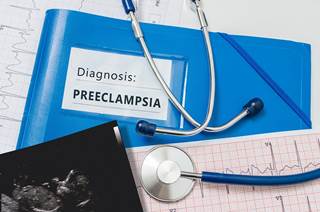 Ambulatory blood pressure monitoring should be offered to women who experience severe preeclampsia.
HealthDay News — More than 40% of women with severe preeclampsia have hypertension 1 year after delivery, according to a study published in Hypertension.
Laura Benschop, from the Erasmus Medical Center in Rotterdam, Netherlands, and colleagues examined the prevalence of hypertension and 24-hour blood pressure (BP) patterns with ambulatory BP monitoring (ABPM) and office BP measurements in 200 women one year after severe preeclampsia in a retrospective cohort study.
The researchers found that 41.5% of women had hypertension at one year after delivery, based on ABPM.
Masked hypertension was most common (17.5%), followed by sustained and white-coat hypertension (14.5% and 9.5%, respectively). Only 24% of women would have been diagnosed with hypertension with sheer office BP measurement. A disadvantageous dipping pattern was reported for 46% of women.
"Hypertension is common one year after experiencing severe preeclampsia. Masked hypertension and white-coat hypertension are risk factors for future cardiovascular disease and can only be diagnosed with ABPM," the authors wrote. "Therefore, ABPM should be offered to all these women at high risk of developing hypertension and possibly future cardiovascular disease."
Reference
Benschop L, Duvekot JJ, Versmissend J, et al. Blood pressure profile 1 year after severe preeclampsia [published online February 5, 2018]. Hypertension. doi: 10.1161/HYPERTENSIONAHA.117.10338