July 05, 2017
ACC/AHA/HRS Release First Syncope Management Guidelines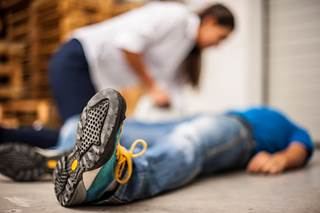 The guideline includes recommendations for syncope risk assessment, diagnosis, and treatment.
The first-ever guideline on assessing and treating syncope was jointly written by the American College of Cardiology, the American Heart Association, and the Heart Rhythm Society. The recommendations were published in each organization's respective journal.1
Syncope is a common condition that can arise from a range of causes. Prevalence rates have been found to be as high as 41%, and recurrent syncope was observed in 13.5% of patients.2 Evidence suggests that rates are higher in females than males (22% vs 15%, P <.001).3
Noting the need for decreased heterogeneity in the management of syncope, the guideline "should reduce the harm caused by overinvestigation and underdiagnosis and provide the benefits of better outcomes and quality of life and reduced costs," according to the chair and vice chair of the writing committee.4
Following are selected highlights of the recommendations.
Risk Assessment and Initial Treatment
The authors emphasize the importance of risk stratification in the initial evaluation of patients with suspected syncope. They noted numerous factors that have been shown to independently predict poor outcomes, including age >60 years, male sex, palpitations preceding syncope, and abnormal electrocardiogram findings, among others.
After the initial evaluation, hospital admission is indicated in patients with serious medical issues, while patients with intermediate risk may benefit from further investigation in the emergency department. Outpatient treatment is typically appropriate in patients with reflex-mediated syncope.
Diagnosis
A thorough history and physical should be conducted, and an electrocardiogram is often helpful for determining etiology. If the diagnosis is still unclear, further testing should be selected at the clinician's discretion. Tilt testing may help identify pseudosyncope, vasovagal syncope, and convulsive syncope, while the guideline advises against the use of brain computed tomography, magnetic resonance imaging, carotid ultrasonography, and electroencephalogram, unless specifically indicated.
Treatment
For vasovagal syncope, clinicians should advise patients to use counterpressure maneuvers and increase salt and fluid intake. Additional potential strategies, based on the patient profile, are fludrocortisone, midodrine, beta-blockers, and serotonin-reuptake inhibitors. In extreme cases of recurrent vasovagal syncope, dual-chamber pacing might be considered.
If other cardiac causes are determined, clinicians should defer to the relevant professional guideline regarding treatment of the underlying condition. "Managing syncope in athletes and children should involve professionals with specific relevant expertise," the authors wrote.
Orthostatic hypotension can occur as a result of dehydration or overmedication, as well as autonomic neuropathies. In the latter case, it may be appropriate to refer the patient for a specialized autonomic evaluation. Management options for syncope mediated by orthostatic hypotension include medications such as fludrocortisone and midodrine, compression stockings, and counterpressure maneuvers.
Driving
There is a lack of data on the assessment of whether patients with syncope are fit to drive. The guideline includes suggestions based on expert opinions, which apply only to private drivers, since federal law governs commercial driving.
Further research on syncope should include prospective studies on risk assessment and clinical outcomes of recurrent syncope, randomized trials on treatment outcomes, and insight into affected patients' disability, quality of life, and functional capacity. In addition, "standardized national registries and large databases are needed to understand syncope incidence and prevalence and patient risk, inform driving policies, improve patient outcomes, and improve the delivery of health services," the authors stated.
References
Shen WK, Sheldon RS, Benditt DG, et al. 2017 ACC/AHA/HRS guideline for the evaluation and management of patients with syncope: a report of the American College of Cardiology/American Heart Association Task Force on Clinical Practice Guidelines and the Heart Rhythm Society [published online March 9, 2017]. Heart Rhythm. doi:10.1016/j.hrthm.2017.03.004
Lamb LE. Incidence of loss of consciousness in 1,980 Air Force personnel. Aerosp Med. 1960;31:973-988.
Chen LY, Shen WK, Mahoney DW, et al. Prevalence of syncope in a population aged more than 45 years. Am J Med. 2006;119:e1-e7. doi:10.1016/j.amjmed.2006.01.029
Shen W, Sheldon RS. Assessment and treatment of syncope [published online June 14, 2017]. JAMA Cardiol. doi:10.1001/jamacardio.2017.1784