June 08, 2017
Reducing Severe, Chronic Hypertension in Pregnancy With Antihypertensive Therapy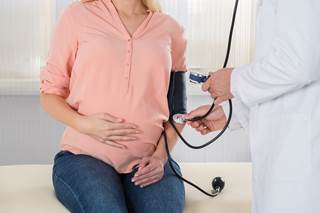 Chronic hypertension is a complication in roughly 3% of pregnancies.
The use of antihypertensive agents in pregnant women with chronic hypertension reduces the risk of severe hypertension without added risk to the fetus, according to the results of a systematic review and meta-analysis published in the Journal of the American Heart Association.1
Approximately 3% of pregnancies are complicated by chronic hypertension; evidence suggests that this rate is increasing along with maternal age and obesity.2-4 The World Health Organization (WHO) and others recommend controlling severe systolic hypertension in pregnant women due to the increased risk of adverse outcomes, including acute renal failure (21%), pulmonary edema (14%), preeclampsia (11%), and in-hospital mortality (10%).5,6
"There remains some debate regarding the efficacy of treating chronic hypertension in pregnancy before it reaches severe levels due to concerns for fetal growth," wrote Louise M. Webster, BMBS, BMedSci, of the division of women's health at King's College in London, United Kingdom, and colleagues,1 noting that related guidelines vary. Findings published in 2015, however, show no difference in adverse outcomes between women who achieved tight blood pressure (BP) control (target diastolic BP: 85 mmHg) vs women who did not (target diastolic BP: 105 mmHg).7
In that same 2015 study,7 the composite outcome of pregnancy loss and intensive neonatal care within the first 48 hours post-delivery was 31.4% in the tight BP-control group vs 30.7% in the less tight BP-control group, and the risk of small infant size (birth weight: <10th centile) was 16.1% vs 19.7% (odds ratio [OR]: 0.78; 95% CI, 0.56-1.08). In addition, patients with tight BP control had significantly lower rates of severe hypertension compared with patients with less-tightly controlled BP (27.5% vs 40.6%; OR: 1.8; 95% CI, 1.3-2.4).
Noting the need to further elucidate the efficacy and safety of antihypertensive agents in pregnant women with chronic hypertension, Dr Webster and colleagues examined evidence from 15 randomized controlled trials (n=1166) that explored these variables in this patient population.
Results of the analysis revealed a significantly lower incidence of severe hypertension with antihypertensive treatment compared with no treatment or placebo (5 studies including 446 women; risk ratio [RR]: 0.33; 95% CI, 0.19-0.56; I2: 0.0%). In addition, no differences were observed in patients with antihypertensive treatment vs no treatment or placebo for the following outcomes:
superimposed pre-eclampsia: 7 studies including 727 women; RR: 0.74; 95% CI, 0.49-1.11
stillbirth or neonatal death: 4 studies including 667 women; RR: 0.37; 95% CI, 0.11-1.26)
birth weight: 7 studies including 802 women; weighted mean difference: −60 g, 95% CI, −200 g to 80 g
small for gestational age: 4 studies including 369 women; RR: 1.01; 95% CI, 0.53-1.94)
"Women of reproductive age with chronic hypertension are at substantially increased risk of cardiovascular morbidity and mortality," the investigators wrote. "Reducing the incidence of severe hypertension and maintaining tighter blood pressure control in pregnancy might contribute to lowering their long-term cardiovascular risk and warrant further investigation."
"Adequately powered head-to-head randomized controlled trials of commonly used antihypertensive agents are required to inform prescribing," the researchers concluded.
Disclosures: Professor Nelson-Piercy disclosed receiving personal fees from Alliance Pharmaceuticals, UCB Pharmaceuticals, LEO Pharmaceuticals, Sanofi Aventis, and Warner Chilcott. The remaining authors report no disclosures.
References