Patient Fact Sheets

Print and distribute these easy-to-read fact sheets to patients to help them understand their health concerns. Our goal is to provide you with resources to foster communication with your patients.
---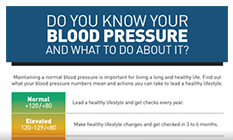 Know Your Blood Pressure: New Hypertension Guidelines
The definition of high blood pressure has changed to allow for earlier intervention in patients with hypertension. Use this fact sheet to inform your patients about what constitutes normal, elevated, and high blood pressure, and what it means for their health.
Loading...
Loading...