December 14, 2015
Transcatheter Aortic Valve Replacement: Current and Emerging Approaches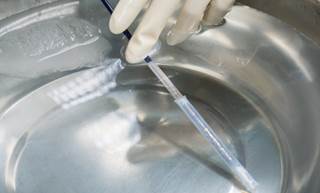 Improved delivery systems have made TAVR a standard treatment for patients with severe aortic stenosis.
Transcatheter aortic valve replacement (TAVR) has become a new treatment standard for patients with symptomatic severe aortic stenosis (AS) who have "prohibitive risk" for surgical aortic valve replacement (SAVR).1

"The role of TAVR in management of cardiac valvular conditions is rapidly evolving, and it is now considered an alternative even for patients at lower levels of risk for open surgery," according to Danny Dvir, MD, of the Department of Cardiology, St. Paul's Hospital, Vancouver, Canada. Since AS is the most common valvular heart disease of old age, the role of TAVR is likely to continue expanding as the population ages.1,2
SAVR vs TAVR
The benefits of TAVR are considerable, Dr Dvir told Cardiology Advisor. It is less invasive than SAVR3,4 and has made treatment possible for many patients with AS who were previously regarded as inoperable, conferring both survival advantage and symptom improvement.5 Additionally, he noted, "because it is less invasive than SAVR, patients tend to prefer it. The shorter hospital stay and less complicated rehabilitation and recovery time make TAVR appealing."
Cumulative results from registries and major trials have demonstrated the efficacy of TAVR in the treatment of patients with AS.6 The PARTNER (Placement of AoRtic TraNscatheER) valve trial was the first prospective randomized trial to evaluate TAVR with the Edwards SAPIEN valve (Edwards Lifesciences, Irvine, CA) in inoperable and high-risk surgical patients.7,8 TAVR demonstrated superiority over medical therapy in inoperable patients with AS and noninferiority to standard SAVR in high-risk patients with advanced AS.7,8 Similar results were obtained at 2 years, with patients in the TAVR group having a lower rate of all-cause mortality, cardiac death, and rehospitalization, despite an increased risk of stroke.9

Five-year outcomes presented at the 2015 American College of Cardiology meeting in San Diego found comparable risk of death between the TAVR group and SAVR group, with no structural valve deterioration in either group. However, 14% of patients in the TAVR group experienced moderate to severe aortic regurgitation, as compared to 1% of those in the SAVR group.10

The low-profile CoreValve system (Medtronic, Dublin, Ireland) is also used in TAVR, although its mechanism differs from that of the SAPIEN. The CoreValve US Pivotal Trial compared TAVR to an objective performance goal of all-cause mortality or stroke rate of 43%. At 12 months, the composite of all-cause mortality or major stroke occurred in 26.0%, all-cause mortality in 24.3%, and major stroke in 4.3%, meaning that it successfully met its goal.11

But TAVR is not without risks. Complications have included cerebrovascular events, conduction disorders, annulus rupture, coronary occlusion, ventricular perforation, need for pacemaker implantation, or vascular complications.6,12 Some patients die relatively soon after the procedure, and their quality of life or functional status is only minimally improved.5 In these cases, TAVR may be regarded as a "futile" procedure, in that it lacks meaningful results, and may not outweigh its risks.5
Dr Dvir attributed patient mortality in the original PARTNER trial to the high-risk nature of the population. "These were truly no-option patients," he said, and the mortality rate "was likely due to a combination of factors, including the age and poor clinical state of the patient, difficulties due to bulky first-generation devices, and the use of operators with only minimal clinical experience." These issues are being remedied as devices become increasingly sophisticated, he said.
A comparison of TAVR versus SAVR can be found in Table 1.
Table 1: SAVR vs TAVR: Risks and Benefits
SAVR

TAVR

Advantages

Easy operation
Established for decades
No aortic regurgitation

Advantages

Less invasive
Faster
No intubation
No extracorporal circulation

Disadvantages

Invasiveness (thoracotomy)
Intubation
Use of extracorporal circulation
Inappropriate for inoperable patients
Major bleeding
New onset atrial fibrillation

Disadvantages

Suboptimal results in case of severe calcification
Aortic regurgitation
Stroke
High pacemaker rate
Vascular complications
References

Haussig S, Linke A. Should transcatheter aortic valve replacement be expanded to lower-risk and younger patients? Circulation. 2014;130:2321-2331. doi: 10.1161/CIRCULATIONAHA.114.008144.
Czarny MJ, Resar JR. Diagnosis and management of valvular aortic stenosis. Clin Med Insights Cardiol. 2014;8(Suppl 1):15-24. doi: 10.4137/CMC.S15716.eCollection2014.