May 23, 2018
FDA Recall: HeartMate 3™ Outflow Graft Assembly Malfunction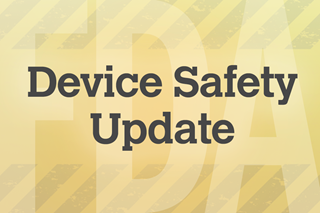 Patients with HeartMate 3™ devices are advised to contact their physicians if they experience a persistent low flow alarm.
The HeartMate 3™ Left Ventricular Assist System recall has been identified as a Class I recall by the US Food and Drug Administration (FDA) as the device may cause serious injury or death.1
Abbott, the manufacturer of the HeartMate 3™, has issued a recall because of a malfunction in the device's outflow graft assembly that may cause it to twist and close up (occlude) over time. This can reduce or altogether stop the pump flow and trigger a persistent low flow alarm in the system. Serious adverse events such as blood clots or death can occur from a reduction in pump flow.1
A total of 4878 units distributed from September 2014 to present in the United States are being recalled. Recalled model/item numbers include catalog number 106524US (US commercial), 106524 (US Investigational Device Exemption), and 10652INT (international).1
Patients are advised to contact their physicians if they experience a persistent low flow alarm. Abbott is not currently recommending removal of the device.1
Physicians should follow their patients per American Society of Echocardiography recommendations published in 2015: "A [left ventricular assist device] surveillance echo exam should be considered at approximately 2 weeks after the device implantation or before index hospitalization discharge (whichever occurs first), followed by consideration of surveillance transthoracic echo (TEE) at 1, 3, 6, and 12 months post-implantation and every 6 to 12 months thereafter."2
If a patient experiences a decrease in flow over time or if flow velocity anywhere in the outflow graft exceeds 2 m/sec, more surveillance echocardiographic exams are warranted.2 Furthermore, if a patient's medical conditions have been ruled out as a cause for the low flow alarm and they do not have any contraindications, computed tomography angiography should be performed urgently.2
The recommendations also state that TEE imaging is not a "definitive tool to identify an outflow graft twist obstruction," but by imaging the size of the left ventricle, mitral valve, aortic valve opening, and diastolic velocity, it can provide an indirect assessment of an obstruction.2
If surgical repair to the outflow graft is necessary, "the Outflow Graft Bend Relief should be reattached in its original state or repaired to prevent bending, abrasion or occlusion of the outflow graft at the graft's attachment point to the pump."1
Healthcare professionals and patients can report adverse events to the FDA's MedWatch site.
References
Abbott recalls the HeartMate 3™ left ventricular assist system due to potential malfunction that may lead to graft occlusion [press release]. Silver Spring, MD: US Food and Drug Administration; May 22, 2018. Accessed May 23, 2018.
Stainback RF, Estep JD, Agler DA, et al; on behalf of the American Society of Echocardiography. Echocardiography in the management of patients with left ventricular assist devices: recommendations from the American Society of Echocardiography. J Am Soc Echocardiogr. 2015;28(8):853-909.