May 31, 2017
Acute Heart Failure Mortality Increased With Morphine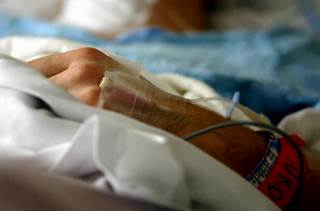 The greatest odds of mortality were at the 3-day mark.
In a recent multicenter, observational matching cohort study, researchers found that the use of intravenous (IV) morphine in patients with acute heart failure (AHF) in the emergency department (ED) is associated with a greater risk for 30-day mortality.1
Morphine in AHF remains a controversial topic, and the data surrounding its use are limited. The American Heart Association and American College of Cardiology currently only support the use of morphine for palliative care in end-stage HF.2 Although morphine can potentially reduce preload in addition to relieving anxiety and chest pain in AHF, it can also reduce ventilatory drive and cause central nervous system depression.3
The researchers collected data from the established Epidemiology of Acute Heart Failure in Emergency Department (EAHFE) Registry and analyzed 6516 participants (416 with recorded morphine use and 6100 without morphine) who presented to 34 EDs throughout Spain. Patients who fulfilled the clinical diagnostic criteria of AHF, when possible, had their diagnoses confirmed by natriuretic peptide or echocardiography. The ED physician ordered all interventions and decided patient disposition at the time of presentation.
All participants were classified according to the use of IV morphine during the first 3 hours after ED arrival, assigned a propensity score (PS) based on multivariate logistic regression accounting for covariates, and paired based on a maximum standardized difference of 1% in the PS. In the entire cohort, 26.7% of patients in the morphine treatment group died within 30 days after presentation to the ED compared with 8.6% of patients who did not receive morphine in the ED (P <.001).1
In the PS-based analysis, 20.0% of participants who received morphine in the ED died at 30 days compared with 12.7% of those who did not (P =.028). Survival analysis of the PS-matched participants also showed a significant increase in 30-day mortality in those patients who had received IV morphine in the ED (hazard ratio, 1.66; 95% CI, 1.09-2.54; P =.017).
These trends were significant across the 3-, 7-, and 14-day time points, with the greatest odds of mortality measured at the shortest post-ED time of 3 days, likely secondary to the pharmacokinetics of morphine (8.0% vs 2.5%; odds ratio, 3.33; 95% CI, 1.40-7.93; P =.007).1
Although the data are suggestive of an association between IV morphine in AHF and increased mortality risk, the researchers noted that the PS may have hidden cofounders unaccounted for in the analyses. They further cautioned that these results "should be confirmed in clinical trials," and that the use of morphine "in AHF patients should be curtailed until further data demonstrating safety become available."1
Additional Study Limitations
A diagnosis of AHF was solely based on clinical criteria in 8% of the patients.
Morphine doses administered to patients were not quantified, which means the researchers could not establish whether or not there was a link between higher mortality and higher doses of morphine.
The researchers did not note whether morphine was used in palliative care cases.
The results may not be generalizable to broader populations because the study was conducted only in Spain.
Disclosures: Dr Hollander reports receiving research grant support from Alere, Trinity, Roche, and Siemens. The ICA-SEMES Research Group has received unrestricted support from Orion Pharma and Novartis.
References
1. Miró Ó, Gil V, Martín-sánchez FJ, et al. Morphine use in the emergency department and outcomes of patients with acute heart failure: a propensity score-matching analysis based on the EAHFE registry [published online April 12 2017]. CHEST. doi:10.1016/j.chest.2017.03.037
2. Yancy CW, Jessup, M, Bozkurt B, et al. 2016 ACC/AHA/HFSA focused update on new pharmacological therapy for heart failure: an update of the 2013 ACCF/AHA guideline for the management of heart failure : a report of the American College of Cardiology/American Heart Association Task Force on Clinical Practice Guidelines and the Heart Failure Society of America. J Am Coll Cardiol. 2016;68(13):1476-1488. doi:10.1016/j.jacc.2016.05.011
3. Johnson MJ, McDonagh TA, Harkness A, McKay SE, Dargie HJ . Morphine for the relief of breathlessness in patients with chronic heart failure — a pilot study. Eur J Heart Fail. 2002;4(6):753-756. doi:10.1016/S1388-9842(02)00158-7