April 07, 2017
Sacubitril/Valsartan Improves Glycemic Control in Comorbid Heart Failure and Diabetes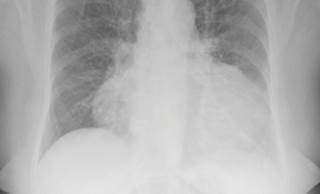 There were also lower rates of new insulin therapy initiation in the sacubitril/valsartan group.
In a recent study of patients with heart failure (HF) with reduced ejection fraction (HFrEF) and diabetes, sacubitril/valsartan led to a more substantial long-term reduction in hemoglobin A1c (HbA1c) compared with enalapril.1
Up to 40% of patients with HF have co-occurring diabetes, which has been shown to be a strong independent risk factor for the progression of HF with either preserved or reduced ejection fraction.2,3 Patients with this comorbidity have an increased risk of hospital admission and death vs patients without diabetes, and the risk appears to increase along with higher levels of hyperglycemia.4,5
Previously, in the Prospective Comparison of ARNI with ACEI to Determine Impact on Global Mortality and morbidity in Heart Failure (PARADIGM-HF; Clinicaltrials.gov identifier: NCT01035255) trial, the angiotensin receptor-neprilysin inhibitor (ARNI) sacubitril/valsartan decreased symptoms, hospitalization rates, and mortality in patients with HFrEF, compared with the angiotensin-converting enzyme inhibitor (ACEI) enalapril.4
New findings have also demonstrated that sacubitril/valsartan improved insulin sensitivity in patients with obesity and hypertension.6
In the present study, researchers conducted a post-hoc analysis of the PARADIGM-HF data to compare the effects of sacubitril/valsartan vs enalapril on HbA1c in 3778 patients with HFrEF and diabetes. They further investigated links between these drugs and time to initiation of oral antihyperglycemic or insulin therapy. At baseline, HbA1c levels were not significantly different in the 2 groups.
The results showed that HbA1c decreased by 0.16% (standard deviation [SD], 1.40) in the enalapril group vs 0.26% (SD, 1.25) in the sacubitril/valsartan group (between-group reduction: 0.13%, 95% CI, 0.05-0.22, P =.0023) during the first year of follow-up.
Over the 3-year follow-up period, HbA1c levels remained lower in patients taking sacubitril/valsartan vs enalapril (overall reduction: 0.14%; 95% CI, 0.06-0.23, P =.0055).
In addition, the sacubitril/valsartan group had lower rates of new insulin therapy initiation compared with the enalapril group (7% vs 10%; hazard ratio [HR]: 0.71; 95% CI, 0.56-0.90, P =.0052).
There were also fewer cases of oral antihyperglycemic initiation in the sacubitril/valsartan group (HR: 0.77; 95% CI, 0.58-1.02, P =.073), although this finding did not reach statistical significance.
Overall, these results indicate that "sacubitril/ valsartan, which has already been proven to reduce morbidity and mortality in heart failure, might provide additional metabolic benefits in patients with diabetes," the researchers wrote.
"Moreover, these data might suggest that patients with diabetes taking sacubitril/valsartan for treatment of heart failure might require dose adjustment of antihyperglyc[a]emic therapy."
References
Seferovic JP, Claggett B, Seidelmann SB, et al. Effect of sacubitril/valsartan vs enalapril on glycaemic control in patients with heart failure and diabetes: a post-hoc analysis from the PARADIGM-HF trial [published online March 17, 2017]. Lancet Diabetes Endocrinol. doi:10.1016/S2213-8587(17)30087-6
McMurray JJ, Gerstein HC, Holman RR, Pfeffer MA. Heart failure: a cardiovascular outcome in diabetes that can no longer be ignored. Lancet Diabetes Endocrinol. 2014;2(10):843-851. doi:10.1016/S2213-8587(14)70031-2
Pocock SJ, Wang D, Pfeffer MA, et al. Predictors of mortality and morbidity in patients with chronic heart failure. Eur Heart J. 2006;27(1):65-75. doi:10.1093/eurheartj/ehi555
McMurray JJ

,

Packer M

,

Desai AS

, et al;

PARADIGM-HF Investigators and Committees

. Angiotensin-neprilysin inhibition vs enalapril in heart failure.

N Engl J Med.

2014;371(11):993-1004. doi:10.1056/NEJMoa1409077

Kristensen SL

,

Preiss D

,

Jhund PS

, et al;

PARADIGM-HF Investigators and Committees

. Risk related to pre-diabetes mellitus and diabetes mellitus in heart failure with reduced ejection fraction: insights from Prospective Comparison of ARNI With ACEI to Determine Impact on Global Mortality and Morbidity in Heart Failure Trial.

Circ Heart Fail.

2016;9(1). doi:10.1161/CIRCHEARTFAILURE.115.0

0

2560

Jordan J, Stinkens R, Jax T, et al. mproved insulin sensitivity with angiotensin receptor neprilysin inhibition in individuals with obesity and hypertension. Clin Pharmacol Ther. 2017;101(2):254-263. doi:10.1002/cpt.455