March 31, 2017
Heart Failure Risk Linked With Bone Mineral Density in Men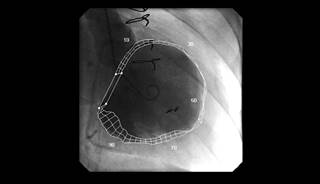 Hip or femoral neck BMD in women was not associated with heart failure risk.
In a longitudinal study published in the Journal of the American Heart Association, researchers from several US universities observed a connection between bone mineral density (BMD) and the risk for heart failure (HF) in older men, with varying results by race.1
An estimated 5.7 million US adults are affected by HF, and that number is expected to grow substantially as the population ages.2,3 Osteoporosis and low BMD are other common aging-related conditions that some research has linked with HF. In epidemiological studies, for example, HF was found to be a risk factor for reduced BMD and orthopedic fracture, and a population-based study revealed an inverse relationship between BMD, measured as broadband ultrasound attenuation, and HF risk in healthy participants.4-6
However, no previous research has investigated this link using dual-energy x-ray absorptiometry (DXA), the gold standard method for assessing BMD. In light of this gap in the literature and the lack of data on the impact of race on the BMD-HF connection, the current investigators examined these associations in older adults who were part of the Cardiovascular Health Study.
The investigators used DXA to measure BMD of the total hip and femoral neck in 1250 participants age ≥65 (59% women; 19% black), and an expert panel identified incident HF events through review of various data from medical visits. The maximum length of follow-up was 19 years, and the median follow-up was 10.5 years.
The analyses produced the following results:
442 participants (55% women) developed HF during follow-up.
Neither hip nor femoral neck BMD was associated with HF in women.
In men, there was a significant interaction between BMD and race (total hip BMD, P

=.001; femoral neck BMD,

P =.009).
Lower hip BMD was associated with a higher HF risk in non-black men (hazard ratio [HR]: 1.13; 95% CI, 1.01-1.26 for every 0.1 g/cm2

decrement), and a lower HF risk in black men (HR: 0.74; 95% CI, 0.59-0.94 for every 0.1 g/cm

2 decrement).
No cases of total hip osteoporosis were found in black men, but in non-black men it was associated with a higher risk of HF (HR: 2.83; 95% CI, 1.39-5.74; P =.004) vs normal BMD.
"Our results provide impetus for additional research into the molecular pathways linking osteoporosis and HF, which could identify novel therapeutic targets for prevention of both conditions," the researchers wrote. "Moreover, these findings suggest that screening for osteoporosis in whites may potentially offer opportunities for earlier detection and prevention of HF, at least in men."
Future research should explore potential mechanisms underlying the BMD-HF association, as well as the sex and race differences observed in the present study.
Study Limitations
BMD measurements were only available for a subset of the Cardiovascular Health Study cohort who attended the 1994-1995 visit.
The participants who survived and underwent DXA scanning were healthier than the participants who did not; therefore, the findings only apply to healthier older adults and are not necessarily generalizable to a broader population.
The analysis of BMD as a categorical variable only included non-black men since there were no black men who met the criterion for osteoporosis of the total hip.
Disclosures
Dr Kizer has received consultant fees/honoraria from ClearView Healthcare Partners and owns stock in Gilead Sciences Inc. and Pfizer, Inc. Dr Civitelli owns stock in Amgen, Eli Lilly & Company, and Merck. The other authors have no relevant disclosures.
References
Fohtung RB, Brown DL, Koh WJ, et al. Bone mineral density and risk of heart failure in older adults: the cardiovascular health study [published online March 13, 2017]. J Am Heart Assoc. doi:10.1161/JAHA.116.004344
Mozaffarian D, Benjamin EJ, Go AS, et al; American Heart Association Statistics Committee and Stroke Statistics Subcommittee. Heart disease and stroke statistics — 2015 update: a report from the American Heart Association. Circulation. 2015;131(4):e29-e322. doi:10.1161/CIR.0000000000000152
Heidenreich PA, Trogdon JG, Khavjou OA, et al. Forecasting the future of cardiovascular disease in the United States: a policy statement from the American Heart Association. Circulation. 2011;123(8):933-944. doi:10.1161/CIR.0b013e31820a55f5
Van Diepen S, Majumdar SR, Bakal JA, McAlister FA, Ezekowitz JA. Heart failure is a risk factor for orthopedic fracture: a population-based analysis of 16,294 patients. Circulation. 2008;118(19):1946-1952. doi:10.1161/CIRCULATIONAHA.108.784009
Carbone L, Buzkova P, Fink HA, et al. Hip fractures and heart failure: findings from the Cardiovascular Health Study. Eur Heart J. 2010;31(1):77-84. doi:10.1093/eurheartj/ehp483
Pfister R, Michels G, Sharp SJ, Luben R, Wareham NJ, Khaw K-T. Low bone mineral density predicts incident heart failure in men and women: the EPIC (European Prospective Investigation into Cancer and Nutrition)-Norfolk prospective study. JACC Heart Fail. 2014;2(4):380-389. doi:10.1016/j.jchf.2014.03.010