April 08, 2016
Higher Vitamin D Levels May Related to Higher Total Cholesterol, HDL-C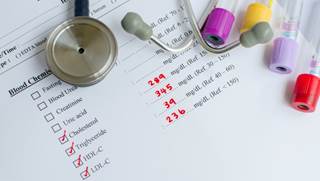 Low concentrations of vitamin D are present in an estimated 1 billion individuals worldwide.
Higher vitamin D levels appear to be associated with higher total cholesterol levels and higher high-density lipoprotein cholesterol (HDL-C) levels, according to a new study presented at the 2016 American College of Cardiology Scientific Sessions & Expo (ACC).1
Investigators looked 13 039 adults and found that higher 25-hydroxyvitamin D (25[OH]D) was cross-sectionally and prospectively associated with higher total cholesterol and HDL-C levels and lower total cholesterol-to-HDL-C ratio after considering factors such as diabetes and adiposity.
"We wanted to see the association of low vitamin D with low HDL-C and high total cholesterol-to-HDL-C ratio, but I think we were most surprised to not find an association of vitamin D deficiency with elevated triglycerides, as has been noted in other studies. This may be in part that we carefully adjusted for other confounding lifestyle variables such as physical activity and 2 measures of adiposity (BMI and waist circumference)," said senior study author Erin Michos, MD, MHS, associate professor of medicine and epidemiology and associate director of preventive cardiology at Johns Hopkins School of Medicine in Baltimore.
"We also were surprised that we did not see any association of low vitamin D with elevated LDL-C in our overall sample. However, when we performed a sensitivity analysis looking at individuals who were not taking lipid-lowering therapy at the baseline exam or at any of the follow-up visits, we did see the association of low vitamin D with elevated LDL-C."
Dr Michos and her colleagues measured lipids at baseline (1990-1992), in 1993-1994, and in 1996-1998. The mean follow-up was 5.2 years.
The investigators used linear and mixed model regression methods to assess associations of 25(OH) D with cross-sectional and lipid trends. They also adjusted for clinical characteristics. The mean age at baseline was 57.6 years, 57% were women, and 24% were black.
Among those individuals without baseline dyslipidemia, participants with low 25(OH) D (<20 ng/mL) compared with optimal levels (≥30 ng/mL) had increased risk for incident dyslipidemia in demographic-adjusted models (hazard ratio [HR]: 1.19; 95% confidence interval [CI]: 1.02-1.39). Nevertheless, this finding was attenuated in fully-adjusted models (HR: 1.12; 95% CI: 0.95-1.32).1