January 27, 2017
SYNTAX Scores Linked to Long-Term Revascularization Outcomes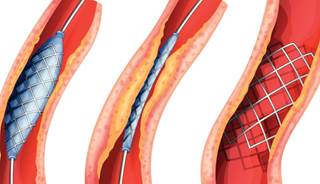 Higher SYNTAX scores may predict major cardiovascular events in patients with coronary artery disease and diabetes.
A study published in the Journal of the American College of Cardiology shows that SYNTAX (Synergy Between PCI With Taxus and Cardiac Surgery) scores predict long-term outcomes and effectiveness of treatment approach in patients with type 2 diabetes and coronary disease.1
The SYNTAX score classifies the extent of coronary disease in terms of the number, functional importance, and complexity of each lesion.2 In the BARI-2D (Bypass Angioplasty Revascularization Investigation 2 Diabetes; ClinicalTrials.gov identifier: NCT00006305) trial, patients with type 2 diabetes and coronary artery disease were assigned to 1 of 2 treatments: adding prompt coronary revascularization to medical therapy, or medical therapy alone. In addition, those in the latter group were to undergo revascularization, if indicated, during follow-up.3
In that study, the treating physician predetermined which method of revascularization would be most appropriate for each patient, either coronary artery bypass graft (CABG) surgery or percutaneous coronary intervention (PCI). Randomization was stratified according to the method chosen. Lower rates of the composite of all-cause death, myocardial infarction (MI), or stroke were observed between treatment groups in the CABG stratum but not the PCI stratum.
Previous research indicates that the extent of coronary disease may predict the success of revascularization.4 The present study investigated whether the BARI-2D patients' SYNTAX scores would predict major cardiovascular (CV) events, and whether those with higher SYNTAX scores would show greater effectiveness of revascularization vs medical therapy. The investigators calculated the baseline SYNTAX scores of 1550 BARI-2D patients without prior revascularization. Major CV events, a composite of all-cause death, MI, and stroke, during the 5-year study period served as the primary outcome measure.
The mean SYNTAX score for the entire sample was 14.6 ± 10.3 (range, 0-54). The majority of the patients (n = 1219) had low scores (≤22), whereas 331 patients had mid/high scores (≥23). The results further revealed the following associations:
There was a higher risk for major CV events in patients with a mid/high SYNTAX scores (hazard ratio, 1.36; 95% CI, 1.04-1.73; P = .02;
Mid/high scores were observed in 36% of patients in the CABG stratum vs 13% of patients in the PCI stratum (P <.001);
No significant difference in CV events was seen between revascularization and medical therapy among patients with low SYNTAX scores in either stratum: CABG (26.1% vs 29.9%; P =.41) and PCI (17.8% vs 19.2%; P =.84)
Lower incidence of CV events was seen after revascularization vs medical therapy in patients with mid/high SYNTAX scores in the CABG stratum (15.3% vs 30.3%; P =.017), but not the PCI stratum (35.6% vs 26.5%; P =.12).
These findings confirm that SYNTAX scores predict long-term outcomes in patients with type 2 diabetes and coronary disease, and that "higher levels of the SYNTAX score predict particular therapeutic benefit from CABG compared with medical therapy," the authors wrote.
Disclosures: BARI-2D received funding from multiple pharmaceutical companies. Dr Brooks reports receiving a research grant from Gilead Sciences, Inc.
References