January 11, 2017
Coronary Heart Disease in HIV/AIDS: Confronting 2 Major Health Issues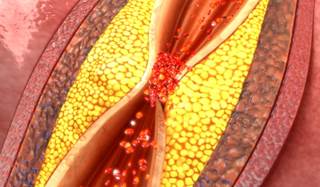 A review of cardiovascular disease burden, particularly coronary heart disease, in HIV/AIDS.
Cardiovascular Disease in HIV/AIDS
HIV/AIDS has been associated with cardiovascular disease (CVD), both in terms of the effects of antiretroviral treatments and the virus itself. However, the mechanisms behind the association are not well understood, especially in the developing world where there is a high burden of HIV.1
Two recent reviews1,2 published by the Journal of the American College of Cardiology examined the epidemiology, risk factors, risk reduction, management, and prognosis in various forms of CVD in HIV/AIDS, including coronary heart disease (CHD), cardiomyopathy, pericardial disease, pulmonary arterial hypertension, valvular heart disease and infective endocarditis, vascular disease and aortitis, and arrhythmias and sudden cardiac death.
Nonischemic Heart Disease and HIV
In "HIV and Nonischemic Heart Disease," the researchers categorized "myocardial manifestations of HIV" by one of the following: focal myocarditis, subclinical left ventricular or right ventricular dysfunction (including diastolic dysfunction and asymptomatic systolic dysfunction), and symptomatic dilated cardiomyopathy with reduced ejection fraction. Prior to the availability of combination antiretroviral therapy (cART), cardiac abnormalities were more common in patients with HIV, especially those living with stage 3 AIDS.2
While cART has helped lower the incidence of HIV-related cardiomyopathy, antiretroviral drugs themselves may be toxic to the myocardium. In addition, dyslipidemia, insulin resistance, and endothelial dysfunction are common among patients with HIV.1,2
Heart Failure
Possible etiologies for HIV-related cardiomyopathy include direct invasion of cardiac myocytes, chronic inflammation (as evidenced by production of tumor necrosis factor-alpha, interleukin-1 and -6, and other proinflammatory cytokines), and B-cell stimulation that generates autoantibodies against the myocardium, which may cause myocardial injury and systolic dysfunction.2
Standard heart failure therapies can be considered, including automatic implantable cardioverter-defibrillators and cardiac resynchronization therapy. However, clinicians should be mindful of potential drug interactions between statins, antiarrhythmic agents, and cART.2
Other Types of HIV-Related CVD
In patients with HIV-related pericardial disease, particularly patients with hemodynamic instability and possible pericardial tamponade, emergent pericardiocentesis is appropriate. In patients with tuberculous pericardial effusion, oral prednisolone was shown to reduce the risk of constrictive pericarditis but was also associated with a 3-fold higher risk of HIV-associated cancer.2