March 08, 2017
Atrial Fibrillation Recurrence Not Reduced With Aggressive Blood Pressure Control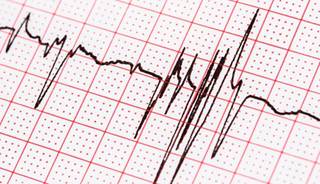 Older patients (≥61 years) may benefit from more aggressive BP treatment.
Aggressive treatment to reduce blood pressure (BP) did not decrease rates of atrial fibrillation (AF) recurrence in patients undergoing catheter ablation, according to results of a randomized trial published in Circulation.1
Despite its growing popularity as a treatment option for AF, the rate of recurrence following radiofrequency catheter ablation is as high as 40%.2 This places patients at ongoing risk of experiencing the significant morbidity and mortality related to AF.3
Potential causes of AF recurrence after ablation include "technical limitations of ablation, such as recovery of conduction in the antral region of the pulmonary veins, or… the presence of an arrhythmogenic atrial substrate that is not modifiable by ablation alone," the researchers wrote. Hypertension is the top risk factor for AF and is believed to contribute to the latter scenario.4
The current study, Substrate Modification with Aggressive Blood Pressure Control (SMAC AF; ClinicalTrials.gov identifier: NCT00438113), examined aggressive BP control as a preventive measure for AF recurrence in patients undergoing catheter ablation at 13 Canadian tertiary care centers.
Patients (n=184) with a high AF symptom burden (including refraction or intolerance of at least one class I or III antiarrhythmic agent) and a baseline BP >130/80 mm Hg were assigned to standard BP treatment with a target of <140/90 mm Hg or aggressive treatment with a target of <120/80 mm Hg. The BP treatment was administered for a median period of 3.5 months, and patients were followed for a median of 14 months.
The findings revealed the following observations.
The mean systolic BP at the 6-month mark was 123.2±13.2/76.7±11.4 mm Hg in the aggressive treatment group vs 135.4±15.7/80.8±10.2 mm Hg in the standard care group (P

<.001).

The primary outcome (symptomatic recurrence of AF/atrial tachycardia/atrial flutter lasting >30 seconds) occurred in 61.4% of patients in the aggressive treatment group vs 61.2% in the standard group (hazard ratio [HR], 0.94; 95% CI, 0.65-1.38, P

=.763)

Hypotension requiring medication adjustment was more frequent with aggressive vs standard treatment (26% vs 0%).
The analysis further demonstrated that patients aged 61 years or older had lower rates of the primary outcome when they were treated with the aggressive approach (HR, 0.58; 95% CI, 0.34-0.97; P =.013).
Taken together, the findings indicate that an aggressive strategy for BP reduction did not prevent AF recurrence after catheter ablation. In addition, this treatment approach resulted in symptomatic hypotension in a significant percentage of patients. "Upstream therapy for AF will require further study in randomized clinical trials to better understand its potential benefit in AF prevention," the researchers concluded.
Disclosures: Dr Parkash reports receiving funding from Pfizer, Bayer, Medtronic, and St. Jude Medical. Dr Healey reports receiving funding from Pfizer and Boehringer Ingelheim. Dr Sapp reports receiving funding from St. Jude Medical. Dr Rivard reports receiving funding from Bayer.
References