December 20, 2016
Understanding Obesity's Role in Atrial Fibrillation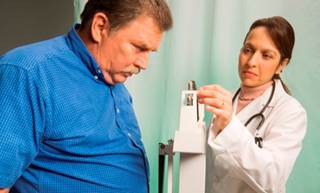 Bariatric surgery could be a viable afib prevention strategy in younger patients who are also obese.
Though the cause of atrial fibrillation (AF) is not always clear, there are certain factors that are known to contribute to its onset, including cardiovascular disease and other medical conditions such as diabetes and lung disease. Another risk factor for AF is obesity, which is especially concerning since it now affects more than one-third of US adults.1
The association between AF and obesity is well-established based on epidemiological data across multiple studies in numerous countries, and there is further evidence from mechanistic and clinical studies, Noel G. Boyle, MD, PhD, professor of medicine and director of the Cardiac Electrophysiology Labs and Fellowship Program at the UCLA Cardiac Arrhythmia Center in Los Angeles, told Cardiology Advisor. Patients who are obese are more likely to develop AF, and in those who do, the condition is more likely to be persistent.2
Worse AF Outcomes in Overweight & Obesity
"Obesity is associated with numerous adverse health conditions, and indeed, it is one of the most important modifiable risk factors for atrial fibrillation," said Erin D. Michos, MD, MHS, FACC, FAHA, associate professor of medicine and epidemiology, and associate director of preventive cardiology at Johns Hopkins School of Medicine in Baltimore. AF risk increases by 10% to 29% for every 5-unit increase in body mass index (BMI), and the risk of new-onset AF in obese individuals is more than twice that of normal-weight individuals, she told Cardiology Advisor.3
In addition, a 2013 meta-analysis of observational studies determined that patients with obesity had a nearly 40% increase in recurrent AF risk following catheter ablation vs normal weight patients.4
However, Dr Michos described an "obesity paradox" that was recently observed in the ARISTOTLE trial (Apixaban for Reduction in Stroke and Other Thromboembolic Events in Atrial Fibrillation), which involved patients with AF who were being treated with oral anticoagulants. The study showed that patients with a BMI in the overweight or obese range had an approximate 35% reduced risk of all-cause mortality.5
"I am not sure we understand this paradox fully, but it may be because patients who are lean or underweight due to poor nutritional status or cachexia have poor metabolic reserve making them intolerant to stressors, with associated higher mortality rate," Dr Michos explained. "Nonetheless, preventing obesity and promoting weight loss among those who are obese is an important strategy for preventing AF incidence and recurrence."
Proposed Mechanisms of AF-Obesity Link, Benefits of Weight Loss
"There are more markers of inflammation, including C-reactive protein, in patients with obesity," said Dr Boyle, and this elevated inflammation represents one potential mechanism driving the obesity-AF connection.
Additionally, overweight patients often have co-occurring conditions that raise the risk of AF, including diabetes, hypertension, and hyperlipidemia. Other evidence suggests that impaired diastolic function and pericardial fat may also contribute to the increased AF risk in such patients.6,7
This fat, according to Dr Michos, may be "metabolically active and secreting several adipokines and cytokines which can have pro-fibrotic and pro-inflammatory paracrine effects on the heart."
"Weight loss confers favorable electrical and structural remodeling changes in the heart [and] results in better chances that patients with AF will maintain a normal heart rhythm," said Dr Michos, who recommends weight loss for patients with a BMI over 25. She points to the LEGACY study conducted by Australian researchers, in which patients with AF referred to a weight management program were 6 times less likely to have recurrent AF if they sustained a weight loss of ≥10% vs patients who lost less or no weight.8 "For patients undergoing catheter ablation, those who have good management of weight and related risk factors have much better outcomes than those who do not," said Dr Boyle.