November 29, 2017
Worsening Heart Palpitations With Hypertension and Obesity: A Case Study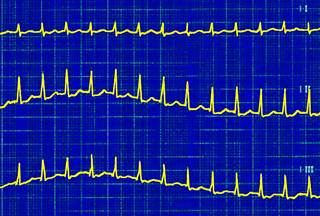 A patient has experienced heart palpitations for the past week, which became worse after mowing his lawn in the hot summer sun. Photo Credit: ISM / Sovereign
Answer: B. Refer patient for polysomnography
Discussion

Well-known risk factors for AF include: hypertension, coronary artery disease, heart failure, valvular heart disease, congenital heart disease, obesity, diabetes, metabolic syndrome, hyperthyroidism, and chronic kidney disease.1 However, there is a growing body of data that links AF to obstructive sleep apnea (OSA).
In one study, OSA was found to be more common in patients with AF than in patients with other cardiovascular diseases and was a stronger predictor of underlying OSA compared with obesity.2 Although no data exist to date showing that AF is caused by OSA or vice versa, there are data that suggest that treating patients who have both conditions with continuous positive airway pressure (CPAP) reduces the recurrence or frequency of AF.3
While the most recent guidelines do not explicitly recommend sleep studies to rule out OSA in patients with AF — likely due to the current lack of evidence — they do hint at a growing body of data by suggesting that sleep testing may be beneficial.
References
January CT, Wann LS, Alpert JS, et al; for the American College of Cardiology/American Heart Association Task Force on Practice Guidelines. 2014 AHA/ACC/HRS guideline for the management of patients with atrial fibrillation; a report of the American College of Cardiology/American Heart Association Task Force on practice guidelines and the Heart Rhythm Society. J Am Coll Cardiol. 2014;64(21):e1-e76.
Gami AS, Pressman G, Caples SM, et al. Association of atrial fibrillation and obstructive sleep apnea. Circulation. 2004;110(4):364-367.
Todd K, McIntyre WF, Baranchuk A. Obstructive sleep apnea and atrial fibrillation. Nat Sci Sleep. 2010;2:39-45.