May 18, 2018
International Liaison Committee on Resuscitation Identifies CPR Knowledge Gaps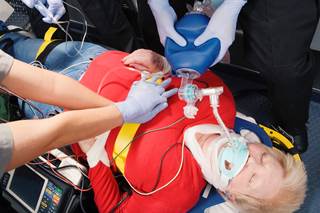 ILCOR identified knowledge gaps in resuscitation medicine concerning recommendations on CPR guidelines.
The International Liaison Committee on Resuscitation identified knowledge gaps in the field of resuscitation medicine concerning recommendations on cardiopulmonary resuscitation (CPR) guidelines. These findings were recently published in Circulation.
Task forces from the International Liaison Committee on Resuscitation identified questions, and evidence was evaluated by performing systematic reviews on the published literature. Each systematic review was accompanied by a list of knowledge gaps identified by the task forces as they wrote treatment recommendations that were frequently qualified as weak on the basis of low-quality evidence. The current publication communicated those knowledge gaps with the goal of targeting inquiries to close the gaps in knowledge.
Selected knowledge gap categories are listed below, along with identified gaps:
Automated External Defibrillators
Training/Protocols for Dispatcher-Assisted Recognition of Cardiac Arrest and Interventions to Promote Bystander CPR
Influence of dispatcher backgrounds, methods to overcome language barriers, and optimal instruction sequence
System Configuration for Public-Access Defibrillation
Where to place automated external defibrillators for public access?
CPR Quality
Which of the individual components of chest compressions should be prioritized when delivering CPR?
Advanced Life Support
Tracheal Intubation During CPR
Type and duration of training required for performing advanced airway management during CPR
Vasopressors During Cardiac Arrest
Dose and timing of epinephrine administration during cardiac arrest
Emergency Angiography in Comatose Patients After Return of Spontaneous Circulation
Which subgroups of patients with non-ST-segment elevation are the most likely to benefit?
Pediatric Life Support
Optimal Sequence of Interventions for Pediatric Basic Life Support
Whether the cause of the suspected cardiac arrest should influence the resuscitation sequence
Numeric physiological parameters for end tidal CO2 and diastolic blood pressure associated with high-quality pediatric CPR
The study authors wrote, "Despite tremendous progress in the field of resuscitation medicine, multiple knowledge gaps remain." They added, "This consensus statement has outlined the major topic areas and attempted to prioritize the gaps in knowledge on the basis of the potential impact on outcomes and feasibility to perform."
Reference
Kleinman M, Perkins G, Bhanji F, et al. ILCOR scientific knowledge gaps and clinical research priorities for cardiopulmonary resuscitation and emergency cardiovascular care [published online April 26, 2018]. Circulation. doi:10.1161/CIR.0000000000000561