October 30, 2018
Strong Association Found Between Antiphospholipid Antibodies and First-Time MI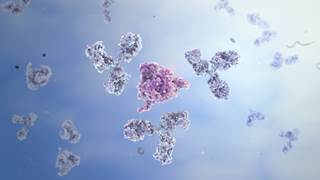 A strong association between antiphospholipid positivity and first-time MI may represent a risk factor for myocardial infarction.
Early indications reveal an association between antiphospholipid antibody (aPL) positivity and first-time myocardial infarction (MI), according to a research report published in the Annals of Internal Medicine.
Researchers analyzed 805 patients in the Periodontitis and Its Relation to Coronary Artery Disease study for general medical information obtained during hospitalization for a first MI as well as blood work at a 6- to 10-week follow-up appointment.
Tests were performed to analyze aPLs including anticardiolipin and anti–β2-glycoprotein I. These same tests were performed on 805 healthy patients who served as controls.
Patients who had an MI were found to have elevated IgG anti–β2-glycoprotein I and/or IgG anticardiolipin aPLs when compared with controls (P <.001). Using a multivariable logistic regression, aPLs IgG positivity and smoking were associated with first-time myocardial infarctions (P <.001, for both).
Future studies need to analyze aPLs over a follow-up time period and include a lupus anticoagulant test.
In conclusion, IgG anti–β2-glycoprotein I and IgG anticardiolipin aPLs might be important risk factors associated with first-time myocardial infarctions, and if present, proper treatment, and management might help prevent myocardial infarctions.
Reference
Grosso G, Sippl N, Kjellström B, et al. Antiphospholipid antibodies in patients with myocardial infarction [published online October 23, 2018]. Ann Intern Med. doi:10.7326/M18-2130